Downtown Development Authority
Downtown Cornelia is a center of activity and economic development. Residents and visitors of all ages and cultures are choosing to live, shop, and work downtown. 
To continue developing a vibrant commercial base centered on tourism and retail growth, while maintaining the peace and tranquility of our small town charm. 
Note: Board meetings are open to the public.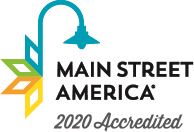 As a Main Street America™ Accredited program, Cornelia DDA is a recognized leading program among the national network of more than 1,200 neighborhoods and communities who share both a commitment to creating high-quality places and to building stronger communities through preservation-based economic development. All Main Street America™ Accredited programs meet a set of National Accreditation Standards of Performance as outlined by the National Main Street Center.
The Cornelia Downtown Development Authority is governed by a Board of Directors which is a seven member volunteer board appointed by the board of commissioners for the City of Cornelia.
Name
Title
Position
Email
Phone
Heath Barrett
Member
Owner of Allstate- The Barrett Agency
scottbarrett1@allstate.com
706-939-1111
Emily Herrin
Chairwoman
Owner of Common Ground Cornelia
emilyriceherrin@gmail.com
678-873-5164
Jessie Owensby
Executive Director
Community and Economic Development Director for the City of Cornelia
dmanager@corneliageorgia.org
706-778-8585, ext. 280
Donald Anderson
City Liason
City Manager for City of Cornelia
Email
706-778-8585, ext. 247
Hope Murray
Member
Retired
hmurray@northmaincu.org
706-894-9069
 
 
 
 
 
Brentt Cody
Member
Blake Rainwater Construction
 brenttcody@gmail.com
706-939-1026
Lindsey Holt
Treasurer
Owner of Bigg Daddys
lindseyholt6510@yahoo.com
706-878-2739
 
 
 
 
Cornelia Downtown Development Authority
The Cornelia Downtown Development Authority (CDDA) was created through a resolution from the Cornelia City Commission in 1982 and was reactivated in the summer of 2011 to further help with revitalization efforts in Cornelia. All downtown development authorities are governed by Georgia Law which requires that all members of a downtown development authority attend 8 hours of training during their first year of office.
Goal
The primary goal of the CDDA is to revitalize and redevelop the Cornelia business district and promote for public good and general welfare, trade, commerce, industry and employment opportunities by creating a climate favorable to commerce. The CDDA will work diligently to promote, maintain and enhance an economically viable downtown by focusing public and private resources on the fulfillment of downtown Cornelia's potential to the benefit of the entire community.
Objectives
These goals of the CDDA will be achieved by focusing on the following:
Facilitate and nurture partnerships with the Department of Community Affairs and other state agencies, the City of Cornelia government, the Cornelia business community and residents.
To acquire, construct, improve, alter, repair and maintain properties within the Downtown Cornelia area as set forth in the enabling resolution based on Georgia law.
To undertake and oversee the revitalization and redevelopment of the business district within the Downtown Cornelia area and to use those powers as prescribed by law as requested by the City of Cornelia, Georgia
Main Street Four Point Approach

The City of Cornelia is also part of the Georgia Main Street Program. The CDDA and the Cornelia Better Hometown work in partnership on a strategic work plan that encompasses the Main Street Four Point Approach™ to downtown revitalization:
Community Outreach/Organization: Building consensus and cooperation among many groups and individuals who have a role in the revitalization process.
Promotion: Marketing the traditional commercial district's assets to customers, potential investors, new businesses, local citizens and visitors.
Economic Restructuring: Strengthening the district's existing economic base while finding ways to expand it to meet new opportunities.
Design: Enhancing the aesthetics of the district by rehabilitating historic buildings, encouraging supportive construction and infill, and long term planning.
Volunteer Applicants
The City of Cornelia is taking applications for hard-working volunteers to serve on the Downtown Development Authority.
Applicants must be taxpayers who live in the city or they must own or operate a business located within the downtown development area.
Applicants must also be taxpayers who live in Habersham County and have an interest in economic development in downtown Cornelia.
All applicants will be subject to a background check and are required by the State of Georgia to take 8 hours of training within the first 12 months of their appointed term.
Board members receive no compensation.
Application
All those seeking appointment will be required to submit an application; the City Manager will present the applications to the Cornelia City Commissioners for consideration for appointment. Applications are available at City Hall or can download the Volunteer Application.
For more information contact Jessie Owensby, 706-778-8585 or by email.
Information to help you start a Business in Cornelia
Appletree Alley Streetscape
Appletree Alley is currently UNDER CONSTRUCTION!!!